2023: Bola Tinubu Talks-Tough, Says "I am Ready to Get Dirty" No amount of Intimidation Can Stop Me".
By Shola Akingboye, 21 February, 2023
The former governor of Lagos State, National Leader of the ruling All Progressives Congress, APC, and the presidential hope in the upcoming 2023 presidential poll, Bola Ahmed Tinubu, has declared that he is ready to get dirty in the struggle to emerge next Nigerian President.
The man popularly refer as Jagaban of Africa, stated this on Sunday during a consultation with the Alaafin of Oyo, Oba Lamidi Adeyemi and the Olubadan-designate, Oba Lekan Balogun, to seek their prayers and blessings.
In his words, the Asiwaju vowed that no other contender would intimidate him out of the race, stressing that he is out to be President Muhammadu Buhari's successor come 2023.
"No amount of intimidation can stop me. I am ready to get dirty. I am out to become President of Nigeria. We are at a crossroads."
Earlier, the former Lagos State Governor told the Alaafin that it was important for him to seek blessings from the traditional institution before embarking on the journey properly.
He said: "I cannot embark on a project of such magnitude without seeking for prayers and cooperation of the traditional rulers.
"I am here to inform our fathers of my decision to run for the position of the President of this country in 2023. What I need from our highly revered traditional rulers are their prayers and cooperation." Tinubu said.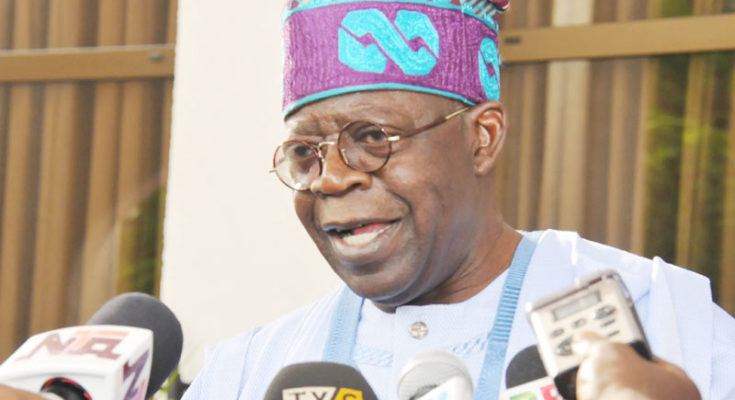 Meanwhile, the Olubadan of Ibadan designate, Lekan Balogun, has told Bola Tinubu, the National Leader of the All Progressives Congress (APC) and 2023 presidential hopeful that "by God's grace, you will triumph".
POLITICS NIGERIA reports that Balogun, who spoke through his brother, Senator Kola Balogun (Peoples Democratic Party, PDP-Oyo South) on Sunday said that the South-West geo-political zone is "looking forward to a Yoruba president".
While receiving Tinubu in his Alarere residence, Balogun said he wants Nigeria's next president to unite the nation, as well as bring development to the country.
"Yorubas are the leading light of Nigeria, our people contributed a lot to make Nigeria what it is and without the Yorubas, Nigeria cannot be where it is today. But, it is very sad to note the 'to your tent oh Israel' that has of recent become the sing-song of the people.
"We are looking forward to a Yoruba president that will further strengthen and unite the country come 2023.
"We need a leader that has national focus and acceptability; the road may be rough, but, by God's grace, you (Tinubu) will triumph," Balogun said